Burglary prevention tips
PORTSMOUTH LOCKSMITHS
Portsmouth Crime statistics 2012 / 2019
Unfortunately burglary is a common occurrence in cities and as a locksmith in Portsmouth we see a lot of them. We are there to help repair the damage done by burglars after a break in but more importantly can help you to prevent burglaries with our free security consultations.
These can help you understand and mitigate risk to your home and property.Below are a series of precautions and measures we consider when looking at ways to prevent burglaries to your property. We think that you should consider them and take action, so you can perhaps avoid needing the services of an emergency locksmith.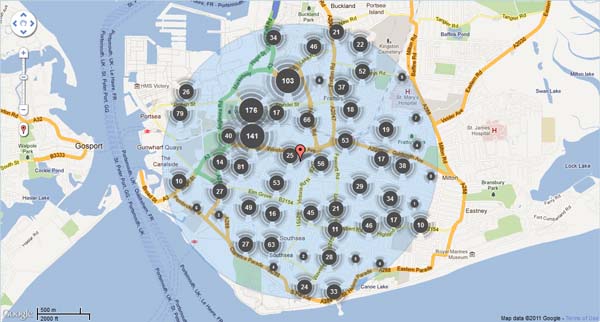 Security Lights
Lighting is a very important element of your home security profile. Whether or not your house is properly lit can determine whether or not your house or another house door is targeted by a burglar.
Security and sensor lights range from low to high price and vary in features but any is better than none. Inexpensive self install Security lights are now available from most hardware stores. If your home is in a vulnerable location or burglary hotspot this is particularly important. Burglars do not like well lit properties as it is harder for them to operate unseen. Sensor lights are great as you can set the distance and sensitivity but also their going on and off attracts attention. This type of lighting is usually mains operated so you may need a qualified electrician and Surelock Homes are able to recommend qualified, reliable tradespeople.
Some areas of your property where you should pay particular attention to lighting are alleyways and entrances at the rear, these often afford easy and out of sight access to your home. Detached houses without close neighbours, and properties obscured by hedges and tall trees or fences can also be targeted.
When fitting security lighting it is important to consider, placement, height, type, energy consumption and wiring and these are all areas where Surelock Homes locksmiths can offer advice and guidance.
Cameras & Alarms
There are many different types of cameras and intruder alarms with a variety of features and functionality to suit a wide range of budgets. Both cameras and alarms can act as a visual deterrent, and video recordings can provide useful evidence in the event of a security incident.
Depending on your requirements you may choose a camera or alarm monitored by a security firm, one that can stream information direct to your mobile phone or a camera that provides a recording to be viewed later. Although there is much available that can be self installed it is wise to seek advice about the most suitable set up for your property, as well as the best placement for your camera and you may require help from a tradesman for wiring and installation. Surelock Homes locksmiths are able to provide a security audit and advise you on these and related concerns.
Locks (windows, doors) British standards
All insurance companies will expect you to have British Standard locks on your downstairs doors and keylocks on all windows. Different insurers will vary terms so check your documentation and always be honest about what you have fitted. If you have the wrong thing it will be better to have it changed than to find you are not covered in the event of a break in.
Even if you have a communal door on your building this does not always mean that you do not need high security locks on your main front door, always refer to you insurance documentation to make sure your locks comply with the terms of your insurance.
Some houses / flats / shops are fitted with low security locks these can easily be upgraded to British standard. Even if your door is wooden, plastic or metal there are upgrades which we can supply and fit.
Windows must have window locks + lockable handles with keys. It is not only uPVC windows that require locks, it is possible to fit locks to all window types including Sash, metal, wooden frame and uPVC.
Signs
Warning signs can also provide a deterrent, if you live in a neighbourhood watch area it is worth showing this. Other signs even something as simple as this property is protected by an alarm system, or warning, beware of the dog, may cause the opportunist thief to think twice.
Pretence and when you are away
As with warning signs the random or opportunist intruder may be put off by the illusion of occupation, a radio playing may be enough. If you are going out or away timer switches for lights and or a radio can create the illusion of someone being home.
Also, making sure that curtains are not obviously all shut or fully open but do adequately obscure the view of the inside. More important is to make sure you cancel all deliveries so that there are no tell tale newspapers piling up on the doorstep.
If you can, let a neighbour know your plans and ask them to keep an eye on the place. Most importantly make sure all doors and windows are closed and locked and that items that will make a break in easier, e.g. ladders are stored securely and out of sight.
Insurance
(although this will not help to prevent a burglary it will make life much easier after one).
Burglary is a painful experience but when the worst happens you don?t want to find yourself with invalid insurance. Many people have the wrong type of locks or the right type of locks in the wrong place in their house, our free no commitment security consultations check for this. Having to pay the bill for repairs and all the goods lost because your locks are not compliant with your insurance can feel like adding insult to injury.
Common sense
Other common sense but easily forgotten advice on how to stop yourself from getting burgled
Don?t leave you keys in coat pocket in your hallway or anywhere near your letterbox these can be fished from through the letterbox with a long pole or car aerial. The same is true of leaving them on a key rack beside the door. Never leave a spare key under your doormat, flower pot or anywhere else you think no one else would think of.
Do not leave your handbag or briefcase in the hallway as it gives the burglar everything they need in one very quick moment.
Locked out
?
As uPVC door lock specialists, we deal with any problems from faulty locks to problematic door mechanisms.